The ultimate guide to the most sought after gifts of 2016.
The holiday season is upon us, and it seems that time for the holiday shopping is running out fast. Shopping for some people is a very difficult to find something they need and would like, this is why we have put together a list to help while you still have time.

The style is as important to a man as the air he breathes, and if you are going to shop for one, you must keep him in style. These are some of the most stylish items we have featured this year and would be perfect for keeping any gentleman in style.
Burberry Leather-Trimmed Velvet Tassel Loafers
Burberry's tassel loafers are crafted from plush black velvet. This Italian-made pair is trimmed with smooth leather and outlined with tactile grosgrain piping. Complete a sophisticated look with tailored trousers and a dinner jacket or chunky-knit cardigan, depending on the occasion.
Price Tag: $650 (Purchase Now)
Balmain Embellished Velvet Blazer
Featured in the Fall '16 Parisian runway show, Balmain's Embellished Velvet Blazer is finished with gold frogging that nods to traditional regalia. Strong shoulders and lion-embossed buttons add to the bold appeal.
Price Tag: $6,225 (Purchase Now)
Tom Ford Buckley Leather Briefcase
The elegance of Tom Ford's 'Buckley' bag is in the simplicity of its design and the quality of the materials used. This piece has been made in Italy from contrasting pebbled and smooth leather and is finished with substantial gold hardware for a luxurious look and feel.
Price Tag: $3,250 (Purchase Now)
Aquascutum Bogart Trench Coat
Crafted in the United Kingdom, a heritage-inspired double-breasted trench coat. True to the style famously worn by Humphrey Bogart, the coat displays raglan sleeves, military-inspired epaulets and adjustable wrist straps. Unique features include a label with Bogart's signature inside, an internal newspaper pocket and slash through pockets.
Price Tag: $1,445
John Lobb City II Leather Oxford
John Lobb's oxford shoes will make the perfect foundation to formal looks. Wear them to complement a sleek two-piece suit, ensuring they are highly polished at all times.
Price Tag: $1,340 (Purchase Now)
Burberry Slim-Fit Shell Bomber Jacket
British fashion house, Burberry's bomber jacket is lined in a brushed wool-blend cloth patterned with the label's signature check. Cut from a lustrous midnight blue shell, it's finished with plush gold hardware and ribbed jersey trims that define the sporty shape. Multiple pockets offer plenty of space to stow personal effects, so you can gad about town hands-free.
Price Tag: $995 (Purchase Now)
Tom Ford Gold Plated Sunglasses
Famed fashion designer/fashion house, Tom Ford, releases rose gold-plated sunglasses. The frames are not only made from plated rose gold,but they also include a rose gold plated foldable clip-on with green tinted lenses. Like all Tom Ford sunglasses, they offer 1005 UV protection and is made in Italy.
Price Tag: $1,950
Smythson Greenwich Large Holdall
Earlier this summer Symthson introduced the Greenwhich Collection With an adjustable crossbody strap and two leather top handles; this carry-on bag is crafted from a durable bespoke lacquered cotton. Divided into two compartments, the first features a padded sleeve for your computer alongside a myriad of pockets for the rest of your travel accessories. With an extra-long zip, the second compartment allows you to pack clothes with ease. Black carry-on bag in bespoke lacquered cotton with a semi-braided weave pattern and smooth calf leather.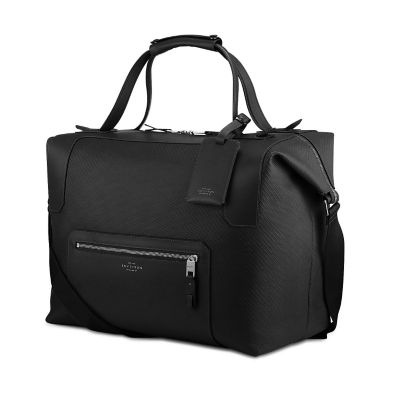 Price Tag: $2,695 (Purchase Now)
Tom Ford Gianni Chelsea Boot
Tom Ford's Gianna Chelsea boots offer a modern look to the classic design and is made of calfskin leather with an ankle strap. Made in Italy.
Price Tag: $1,990
Grooming is a very important part of being a gentleman
Quip Toothbrush
Quip is the latest in dental tech that came easily help the busy gentleman, offering not only a toothbrush but interchangeable brush heads on subscription bases. The slimmest electric toothbrush has a sleek aluminum handle and is available in silver, slate, copper, and gold. There is no need to search for a place to store the toothbrush, as it comes with a convenient wall mount that doubles as a travel cover. The vibrating bristles have timer pulses that guides an efficient 2-minute brushing and to ensure you actually replace your brush on time; you'll get a new head and toothpaste refill through the mail every three months from just $5 a pop.
Price Tag: $45-$150
Price Tag: $2,695 (Purchase Now)
Price Tag: $48 (Purchase Now)
CZECH & SPEAKE 

Number 88 Travel Shaving Set
Price Tag: $207 (Purchase Now)
CZECH & SPEAKE 

Oxford & Cambridge Aftershave 
Price Tag: $138 (Purchase Now)
Tom Ford Oud Wood Shower Gel
Tom Ford's shower gel gently cleanses skin and is infused with rare oudwood – one of the world's most expensive ingredients known for its exotic fragrance. A blend of rose wood and cardamom lends it a smoky accord, with notes of tonka bean and amber adding a warm base.
Price Tag: $67 (Purchase Now)
This year has brought us a few great films and 4k Blu-Ray re-releases that would be perfect for a great gift for every gentleman who enjoys films. Not to mention along with the first-ever 2 TB Xbox One S, the Playstation 4 Pro and much more.
Captain America: Civil War
Not only one of the best films of the year, but also one of the greatest in the genre Captain America: Civil on Blu-Ray is something that every fan of both the superhero genre and action films would appreciate.
Price Tag: $29.99 (Purchase Now)
Star Wars: The Force Awakens 3D
The Star Wars: The Force Awakens finally receives its 3d release. This collectors edition is a perfect gift for the gentleman Star Wars fan.
Price Tag: $29.96 (Purchase Now)
Kingsman: The Secret Service 4k Ultra Hd
Price Tag: $29.99 (Purchase Now)
The Martian: Extended Edition 4K Ultra-HD
Price Tag: $23.96 (Purchase Now)
The Great Gatsby 
4k Ultra HD
Ranked as our most stylish film of all time, The Great Gatsby
Price Tag: $31.99 (Purchase Now)
Xbox One S 2TB Console
Xbox One returns with much-needed improvements to both the controller and its hardware. This new model includes a 2TB Internal Hard Drive Xbox One S Console, 1 Xbox Wireless Controller (with 3.5mm headset jack), 1 Console Stand (for vertical orientation), HDMI cable (4K Capable), AC Power cable, and a 14-day Xbox Live Gold Trial. Allowing you to watch Ultra HD (UHD) 4K Blu-ray movies on your 4K TV and stream 4K video on Netflix and Amazon Video. All while being 40% smaller than the original Xbox One. For the Gears of War fan, there is also a special edition 2TB console for a bit more.

Price Tag: $398.90 (Purchase Now)
PS4 Pro
1TB
Sony releases a 4k version of its latest version of Playstation. Complete with Spectacular graphics Explore vivid game worlds with rich visuals heightened by PS4 Pro. Enhanced gameplay – Support for faster frame rates delivers super-sharp action for select PS4 games. One unified gaming community – Compatible with every PS4 game. Play online with other PS4 players with PlayStation Plus. Extraordinary entertainment – With up to 4K streaming and 4K auto-upscaling for video content.
Price Tag: $399 (Purchase Now)
Battlefield 1
One of the most anticipated games of the year for the gentleman that plays either console games or PC Battlefield 1 offers an open world experience that centers around world war one.
Price Tag: $59.99 (Purchase Now)
Hitman
A long time favorite of ours, Hitman returns with an episodic amply self-titled game, beautifully crafted with both gorgeous cinematic scenes, with all the violence fans have come to love from the franchise. Hitman is available on Xbox One, PS4, and PC.
Price Tag: $58.75-$80.77 (Purchase Now)
Xbox One Design Lab Custom Controller
Recently Microsoft unveiled its "Design Lab" where all gamers can personally customize their perfect controller.
Price Tag: $89.99 (Purchase Now)

The Phase One XF
The Phase One XF offers Hi-res images are attributed to many aspects within a camera and its equipment. Its sensor and the lens tend to be the most underlying factors to produce that beautiful picture you're chasing after. The XF  has a Schneider Kreuznach 80mm LS lens and a Sony-built medium format sensor that packs a whopping 100 MP, the Danish company has given the megapixel race a serious contender when it comes to crop-ability and hi-resolution imagery.
Price Tag: $48,990
Marshall Mid Bluetooth Headphone
Marshall's Bluetooth aptX headphone that delivers superior audio and 30+ hours of playtime on a single charge. Its custom 40mm dynamic drivers lend it a robust sound that balances clarity with just the right amount of bass perfect for those who demand the best in sound. The on-ear design features a plush headband and 3D hinges that produce an ergonomic fit. Complete with black vinyl, solid metal hinges and brass details mid is the embodiment of Marshall in a headphone.
Price Tag: $199
Samsung 4K Ultra HD Blu-ray Player
Price Tag: $337.90 (Purchase Now)
Smart Rope
For many of us fitness is an important part of our daily lives, and as technology advances, we are always looking for improvements in our equipment as well as our bodies. Enter the Smart Rope, a jump rope with an L.E.D. light installed into the rope that tells you how many lbs you have burned throughout your workout. The Offering lengths of rope for heights 6.3 to 6.7 inches, and is available in chrome, black, and gold. To help keep up with your progress Smart Rope offers a smartphone app "Smart Gym" that will not only collect your progress but allow you to challenge your friend's progress as well.
Price Tag: $79.99 – $185.51 (Purchase Now)
Crosley Executive Portable USB Turntable
Price Tag: $79.99  (Purchase Now)
Apple MacBook Pro 15.4-inch Laptop
Price Tag: $2,399 (Purchase Now)
The Marshall Major II Bluetooth Headphones
The Major II Bluetooth gives you the freedom and convenience of a wireless headphone combined with over 50 years of tried and true Marshall performance. Seamlessly Connect to your listening device with the latest in Bluetooth aptX Technology and listen to 30+ hours of music. Not only can you blast your favorite tunes in CD-like audio quality, aptX also minimizes audio/video syncing issues, allowing you to watch movies without experiencing horrible lip sync. The double-ended coil cord with mic & remote is completely detachable and compatible with any music player that receives a 3.5mm jack. When listening to music wirelessly, you can use the empty 3.5mm socket to share audio with someone else.
Price Tag: $114. 98 (Purchase Now)
Canon EOS 5D Mark IV
Canon finally releases information on the long-awaited Canon EOS 5D Mark IV.The latest EOScamera builds on the powerful legacy of the 5D series, offering amazing refinements in image quality, performance, and versatility. Canon's commitment to imaging excellence is the soul of the EOS 5D Mark IV. Wedding and portrait photographers, nature and landscape shooters, as well as creative videographer's, will appreciate the brilliance and power that the EOS 5D Mark IV delivers.
Price Tag: $4,599 (Purchase Now)
Price Tag: $850,000
2017 Aston Martin Vanquish S
Our friends at Aston Martin unveil the latest addition to the Vanquish family with the upcoming 2017 Vanquish"S". The new Vanquish S has a shape, speed, suspension and interior specifications, completely different from the previous model and other Aston Martin's. Receives a more distinctive front end, sporty rear diffuser highlighted by chopped carbon fiber inserts found throughout the exterior and plush "Filograph" interior. The eight-speed Touchtronic III gearbox and more advanced suspension work in unison with the new 6.0-liter V12 engine, giving the Vanquish S a grand total of 580 horsepower. Buyers of the new Aston Martin's Vanquish S can expect to receive their purchase in December just in time for the holidays.
Price Tag: $294,950 – $312,950